Welcome to our Design Studio.
Here in our design studio you will find the patterns we currently have for sale as well as some of the patterns we currently have in development. Take your time and browse through what we have to offer. Let us know if you would like to see other designs other than those we have offered.
To find out more about how we design our patterns click here
Click on the image to find out more about our selections.

View Shopping Cart / Checkout

Payment Options
At this time, we offer online payment through CCNow and PayPal. If you would prefer to place an order by mail click here.
If you wish to use CCnow all you have to do is click on the price under the image title and it will place the item in your shopping cart. You can click on the View Shopping Cart / Checkout link at the bottom of the page to view the items in your shopping cart, change the items in your shopping cart or check out.
If you currently have an account with PayPal and would prefer to use them to order, click on the thumbnail image of the design you wish to purchase which will take you to that design's main page. If you choose to purchase the design you are viewing click on the button under it which reads, purchase Item. PayPal currently limits us to allowing you to purchase only one design type per transaction, however, you can order multiples of the same design on one transaction.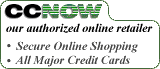 all images copyright © 2001 by Cauldron Crafts. All rights reserved.